– Does anybody heard about the word "Singkamas"? It is mentioned in the popular Filipino Folk Song " Bahay Kubo".
If you're wondering what this is and curious about the description of it, then let me describe it to you in this article. Ready? Let's start!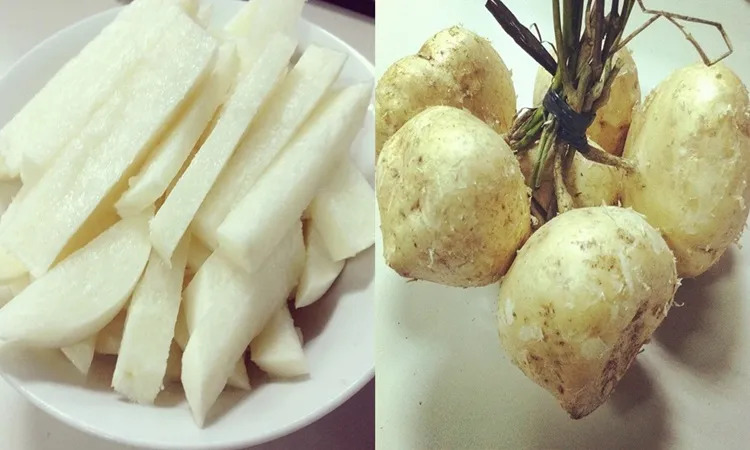 – Singkamas or " jícama root" in English is a vegetable that tastes a little sweet and has a crunchy texture that is so refreshing. This has plenty of health benefits including:
Full of healthy nutrients– Singkamas is very rich in beta-carotene, and vitamin B-complex and it also has a low-calorie content that is very beneficial for losing extra weight.
Helps Bowel movement– If you are suffering from constipation, singkamas will gonna help you because singkamas have lots of fiber content that is very beneficial for your bowel movement.
Cures Fever– Singkamas also have a cooling effect, if someone is suffering from a fever, you can grate some singkamas and collect their juice to drink by the patient.
Good for sunburn– Sunburn is very common in summer and sometimes it can really hurt or sting your skin but singkamas can help you from those problems. Just grate some singkamas and apply them to the affected areas of the skin.
Reducing common diseases–  Singkamas in your diet will help you to reduce the risk of diabetes, hypertension, cancer, and other non-communicable diseases.
Maintaining a normal weight–  will help you to maintain a normal weight, and having a normal weight will reduce the risk of Diseases thus we will have a more healthy body.
Lighten skin–  Singkamas has a pre-biotic content that can help your skin to get moisturized and it also has a whitening effect.
Reduce the risk of Heatstroke– Singkamas is very high in water content that will rehydrate your body in hot weather conditions and it can also decrease the risk of heatstroke.